The Microsoft Office 2007 and 2010 suites are widely accepted as industry standards and used all over the world, especially by business and professional document creators. MS Word 2007 and 2010 have both become the standard for text processing applications. The default file format for Word 2007 and 2010 is docx. So, whenever you want to create or edit a native, full-featured Word 2010 document, you need to deal with a docx file.
It is also a well-known fact that when we want to send or save business or personal documents, we usually convert them to the PDF format, because of the obvious benefits of PDF.
But many times we need to modify saved or received PDF files. To do that, we need to convert it into an editable Word format, preferably docx. The best way to convert PDF files to the docx format is by using a professional PDF Converter, like Adobe Acrobat or PDFConverter Elite. Most business users who create and convert PDF documents on a regular basis usually opt for a powerful and fast PDF Converter software. However, they are pricey and if you are just a student or need conversion service once in a blue moon, you may prefer a free PDF converter.
Google has recently updated its presentations in Google Docs – introducing more than 50 new features – including new themes, transitions, animations, drawings, advanced tables and live collaborations. The Google presentations, as a free alternative to Microsoft's PowerPoint,  is very easy to use and pretty intuitive. If you are someone who is still hesitant about switching to the new version, here are some handy tips and tweaks to spice up your presentations:
1) Jazz up your presentations with new themes
The new Google presentations incorporate new themes to create distinctive presentations with compelling visual styles.
To change a theme or check out what's available, go to Slide menu → Change Theme.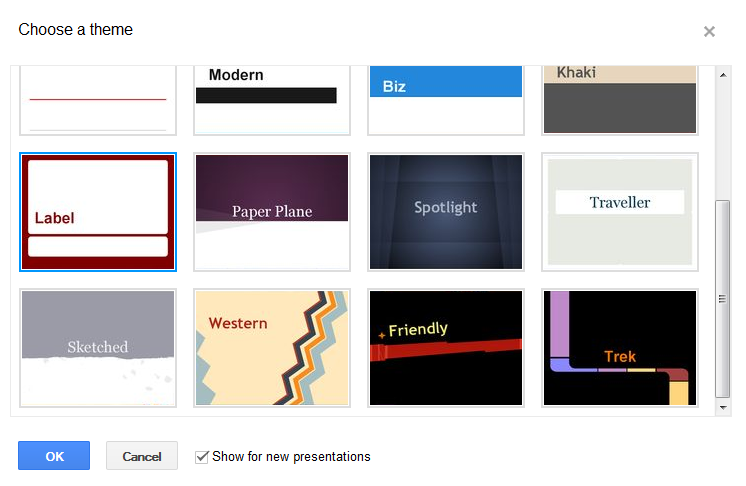 Simply select the desired theme and it will be automatically applied to your slides.
2) Revamp your older presentations
This is a guest post by David Lazar from PDFConverter.com
More and more people are flocking to Google Docs for all of their office suite needs, and it's really no surprise with the way the service continues to evolve.
Now is a better time than ever to hop aboard the Google Docs bandwagon and check out all of the great new features that are being offered completely free of charge.
Google Docs does not have the restraints that desktop office suites have, in the sense that they need to wait a couple of years to introduce new changes once a new version of the suite is fully created. Google Docs continues to be a work in progress that is constantly changing and adding new features that are turning heads and making a lot of people switch completely from their desktop office programs to Google Docs.
Here are some of the latest and most significant features that Google Docs has added in its quest to offer the ultimate evolving office suite for all your needs.
(Source: pcgeekblog.com)