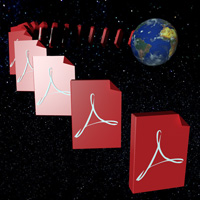 PDF documents and eBooks are widely available on the web. Nowadays you can find great business-related, educational, entertaining or informative resources online that you can download for free in PDF format. Not only that, you can often find multiple interesting PDFs on a single web-page. All you need to do is to download each of them. If there are only two or three PDFs of interest available on the page, it is not a big deal. But if you come across a page with a dozen or more documents that you simply must have, downloading each of them individually may become a time intensive and mundane chore.
Let's take for example one Google search query:
[business tips filetype:pdf ]
This search will return many great PDFs for free download. If you are just starting a business or writing a paper or article, or preparing a lesson for your students, you may want to check out as many resources as possible. If you start downloading each resource separately, you may end up doing this for hours, right?
But don't worry. If you are a Google Chrome user, there is great news for you. There is a free Chrome extension for downloading all files linked on the page called Download Master.
All you need to do is to add it to your Chrome browser for free and download all the PDFs from our example page above in a single click. As a matter of fact, Download Master allows you to select a specific set of files or use the filters to choose all files of the same type in a single click.If you want to download all the PDFs found on the web-page, simply check the box in front of pdf (check out the picture below).
If you don't want to download all of the PDFs, after filtering all the files by PDF, simply uncheck the box before the files you don't want to download and they will be automatically removed.
Then click on the button Download. You may be required to enter a CAPTCHA verification during the download process. In that case, simply input the verification symbols and continue.
Download Master can also be useful for downloading images. You can filter images by image formats found on the web-page: png, .jpeg, gif and so on.
In this way, you can easily download multiple photos from Facebook or an Instagram account, for example.